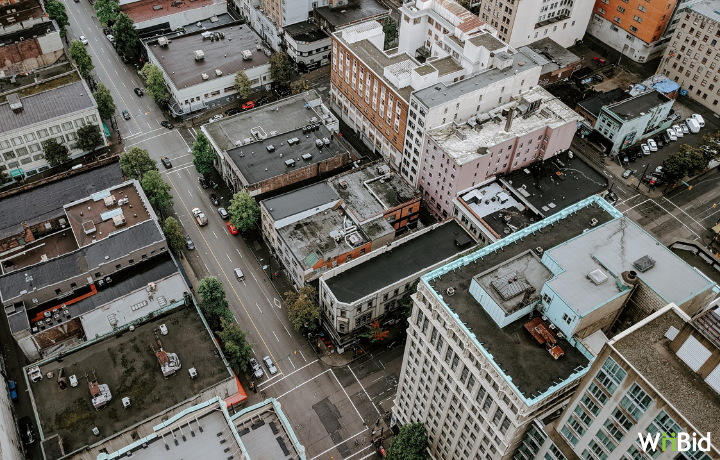 Canada's "Bubbly" Housing Market Could Be Risky for Homebuyers
Canada's real-estate market has entered a bubble with two new reports, reinforcing fears among housing experts who believe that the housing market is becoming further detached from the fundamentals.
Bloomberg
, the global news and data firm, generated a "
Bubble Ranking
", consisting of country scores based on home buying and real-estate factors: costs of buying a home compared to renting, the price-to-income ratio, inflation-adjusted price growth, nominal price growth, and the annual rate of household credit growth. Bloomberg
ranked
Canada as second bubbliest housing market on the planet, with Sweden, Norway, and United Kingdom tailing behind and New Zealand taking first place.
"A cocktail of ingredients is sending house prices to unprecedented levels worldwide," Bloomberg economist
Niraj Shah reports
. "Record low interest rates, unparalleled fiscal stimulus, lockdown savings ready to be used as deposits, limited housing stock, and expectations of a robust recovery in the global economy are all contributing."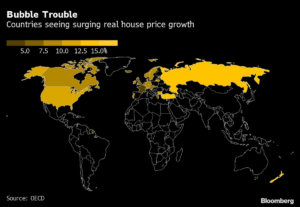 Source: OECD, Bloomberg
In addition, a former Bank of Canada economist published research suggesting that housing in Toronto and Ottawa is overvalued based on historical metrics, with Montreal becoming increasingly so. The rising heat in the eastern cities, combined with Vancouver's elevated prices is turning the national numbers frothy. Since these places are home to more than 50% of Canadians, the Bank of Canada will be forced to potentially increase interest rates slowly and carefully. "The housing market will probably be the first casualty of higher rates," says Alberta Central chief economist Charles St-Arnaud's, who previously worked at the Bank of Canada. "When rates go up, that affordability will disappear very, very quickly." Changes in interest rates could generate significant headwinds in the housing markets of major cities, causing struggle among large numbers of people who are trying to keep up with the high prices. Yet the risk is greater when there's a synchronized boom in house prices — as is the case in the current cycle, according to Shah. "When borrowing costs do start to rise, real estate markets — and broader measures put in place to safeguard financial stability — will face a critical test," Shah wrote. A simple 10 per-cent jump in prices in major cities, paired with a 1.5-percentage-point increase in borrowing costs, would make those markets heavily overvalued. Bank of Canada Governor Tiff Macklem is being warned that when raising interest rates, as he has said he could do next year, he will have to be mindful of the ripple effect that the policy change could have on Canadian homeowners. Canadians are also advised to pay attention to the status of Canada's interest rates, the current mortgage climate, and any possible risk they may face in the housing market.
To learn more about WiiBid's innovative digital mortgage marketplace, visit
www.wiibid.com
Follow
@wiibidcanada
 for deals and promotions to save even more on your mortgage through
Posted on
by Sharlyn Monillas
Tagged
BC
,
blog
,
bubbly
,
canada
,
Canadian mortgage
,
homebuyers
,
homebuying
,
housing market
,
interest rates
,
news
,
Real Estate
,
risk