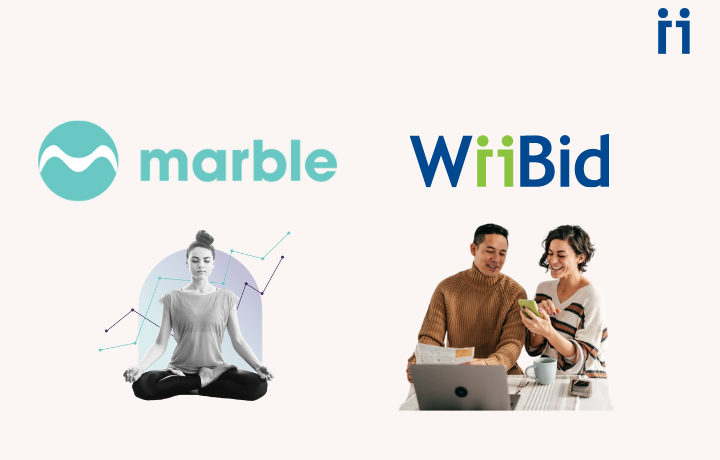 Wiibid Partners with Marble Financial to Help Users Get Better Rates and Educate on Financial Wellbeing.
Wiibid Partners with Marble Financial
to Help Users Get Better Rates and Educate on Financial Wellbeing.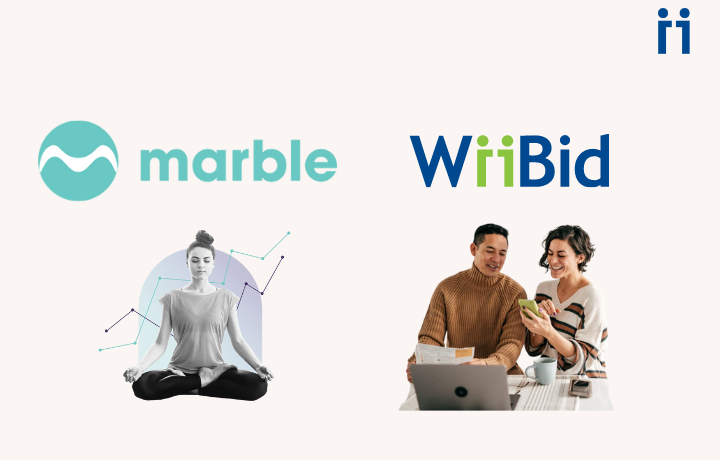 The agreement Wiibid enables the Marble Connect API to be integrated with Marble Financial
AI-driven financial technology.
Vancouver, BC:
  Wiibid Solutions Corp. ("Wiibid") a leading fintech company that offers an online borrower-centric lending marketplace is pleased to announce that the Company has entered licensing agreement with Marble Financial Inc. CSE: MRBL; OTC: MRBLF; FSE:2V0) ("Marble" or the "Company"), an AI-driven financial technology company. Since 2016, Marble provides thousands of marginalized consumers with a positive financial future and continues to establish themselves as leaders in financial wellness through the licensing of their proprietary products on their MyMarble Platform. That is why we have partnered with Marble, a leading AI-powered platform in consumer credit management. Through our partnership with Marble, WiiBid will be able to help its clients receive valuable insights about the state of their credit and its impact on their ability to obtain mortgage financing, as well as provide them with practical and actionable recommendations on how to improve their rate and financial position.  We are excited to share this announcement and look forward to enhancing our customer's experience through this partnership. Our team at WiiBid is committed to our customers by not only providing them with the best rates but also with access to meaningful education, tools and resources necessary to ensure their financial success. "We are pleased to announce the licensing agreement with WiiBid as it represents the integration of our second online marketplace within the alternative lending space," said Doug Tanner, Marble's VP of Business and Corporate Development. "The Marble Connect software implements artificial intelligence to provide accurate credit score valuations for users who need them the most such as sub-prime customers. That said, this agreement highlights the strength of our proprietary technology in delivering personalized financial solutions that can help users improve their financial wellness."
About WiiBid Solutions Corp.:
WiiBid is Canada's first mortgage marketplace, providing direct access to a wide range of lenders and financial institutions to more than 4,500 mortgage seekers monthly. Using the power of bidding, Wiibid empowers mortgage seekers to automatically and securely discover the best mortgage rates offered in the marketplace tailored to their specific circumstances.
About Marble Financial Inc. (CSE: MRBL; OTC: MRBLF; FSE:2V0)
Marbles' proprietary
MyMarble
platform utilizes the power of machine learning, data science, and artificial intelligence, in leveraging its proven data-driven strategies through technology solutions Connect, Inverite, Score-Up, Fast Track, Maestro and Boost to engage in and navigate a clear path towards financial wellbeing and a meaningful credit score, since 2016, Marble is proud to have empowered thousands of marginalized consumers to a positive financial future, and we continue to establish ourselves as leaders in financial wellness through the licensing of our proprietary products on the
MyMarble
Platform. For Further information about Wiibid, please visit:
www.wiibid.com
NEITHER THE CANADIAN SECURITIES EXCHANGE NOR ITS REGULATIONS SERVICES PROVIDER HAVE REVIEWED OR ACCEPTED RESPONSIBILITY FOR THE ADEQUACY OR ACCURACY OF THIS RELEASE.
Caution Regarding Forward-Looking Information
This release contains forward-looking statements. Forward-looking statements, including with respect to the Company's intention or ability to complete the Proposed Offering, the timing of closing the Proposed Offering and the intended use of proceeds from the Proposed Offering Forward-looking statements, without limitation, may contain the words beliefs, expects, anticipates, estimates, intends, plans, or similar expressions. Forward-looking statements do not guarantee future performance. They involve risks, uncertainties and assumptions and actual results could differ materially from those anticipated. Forward-looking statements are based on the opinions and estimates of management at the date the statements are made and are subject to a variety of risks and uncertainties and other factors that could cause actual events or results to differ materially from those projected in the forward-looking statements. Except for historical facts, the statements in this news release, as well as oral statements or other written statements made or to be made by Marble, are forward-looking and involve risks and uncertainties. The forward-looking information included in this release is expressly qualified in its entirety by this cautionary statement. Accordingly, readers should not place undue reliance on forward-looking information. The Company undertakes no obligation to update these forward-looking statements, other than as required by applicable law. _____
To learn more about WiiBid's innovative digital mortgage marketplace, visit
www.wiibid.com
Follow
@wiibidcanada
 for deals and promotions to save even more on your mortgage through