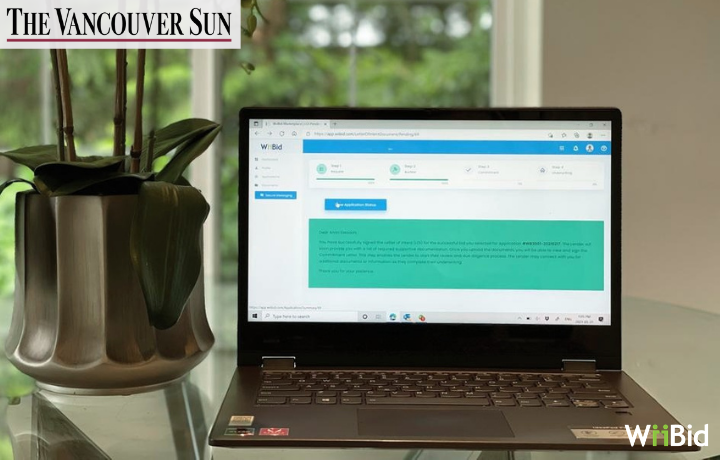 BC Fintech Equips Homebuyers with the Right Mortgage Tools
With the current state of BC's red-hot real estate market, it is more important than ever for Vancouver homebuyers to have access to the right tools and to connect with the right people. And Vancouver Sun provides homebuyers a glimpse into the innovative tools, technology, and open marketplace, that is WiiBid.
The article features Vikas Bain, a Vancouver investor, who found WiiBid through an online search and after applying, made a huge difference on his mortgage saving him thousands of dollars in the span of just one year. "I saved 1.25 percentage points on the interest rate of my new mortgage,"says Bain to Vancouver Sun.
How exactly did he do that? Through WiiBid's website, Bain was able to sit back and let the program's competitive structure generate him better offers. "The website was quite intuitive; it gives you a platform to enter the auction market and let lenders offer you better rates," Bain says.

WiiBid helps mortgage seekers obtain a mortgage, no matter what their circumstances. GETTY IMAGES.
With the obstacles that many prospects and home buyers often undergo when obtaining a mortgage, many WiiBid users like Bain were shocked to witness a platform where homeowners can negotiate their mortgage terms, find a better rate, receive fast mortgage approval, or take out home equity all in one. The service is simply "clear cut, upfront, [with] no need for any phone calls to lenders", says Bain.
Vancouver Sun describes WiiBid's technology as a "powerful inversion" as it coordinates and compares bids for you, turning the tables and indulging in a competition that works in the favour of the borrowers. WiiBid centralizes one of the biggest challenges of homeowners in one program and even ensures fast approval, easy navigation, and security with just one application.
By taking on a different approach to the normal mortgage search in Vancouver, WiiBid's technology changes the game with lenders competing for the attention of borrowers for a change. For clients that don't qualify for bank financing, WiiBid is that right tool that offers a plethora of alternative lenders to lend a helping hand to mortgage seekers all across BC.
To learn more about WiiBid's innovative digital mortgage marketplace, visit www.wiibid.com
Follow @wiibidcanada for deals and promotions to save even more on your mortgage through partnerships with real-estate professionals, lawyers, appraisals, and more.